"Everyone is different, & 
so are their abilities to learn"


Then, how can the same teaching approach be effective for everyone?


We all want the best for our children, especially when it comes to education.
A new type of learning is emerging, one that employs conversational AI to aid in the learning process. This new form of education is more convenient, effective, and exclusive in terms of improving children's learning. 

Before we look at the constructs of this new way of learning, let's look at the various ways we have been learning till date.
I know you already know the ways we have been learning and you must be thinking it's waste of time reading them again, feel free to skip this traditional classroom learning and online passive learning to future ways of learning we described above (
Emerging Conversational AI
)
3 TYPES OF LEARNING METHODS AND WHY YOU NEED TO CARE


Contents Overview: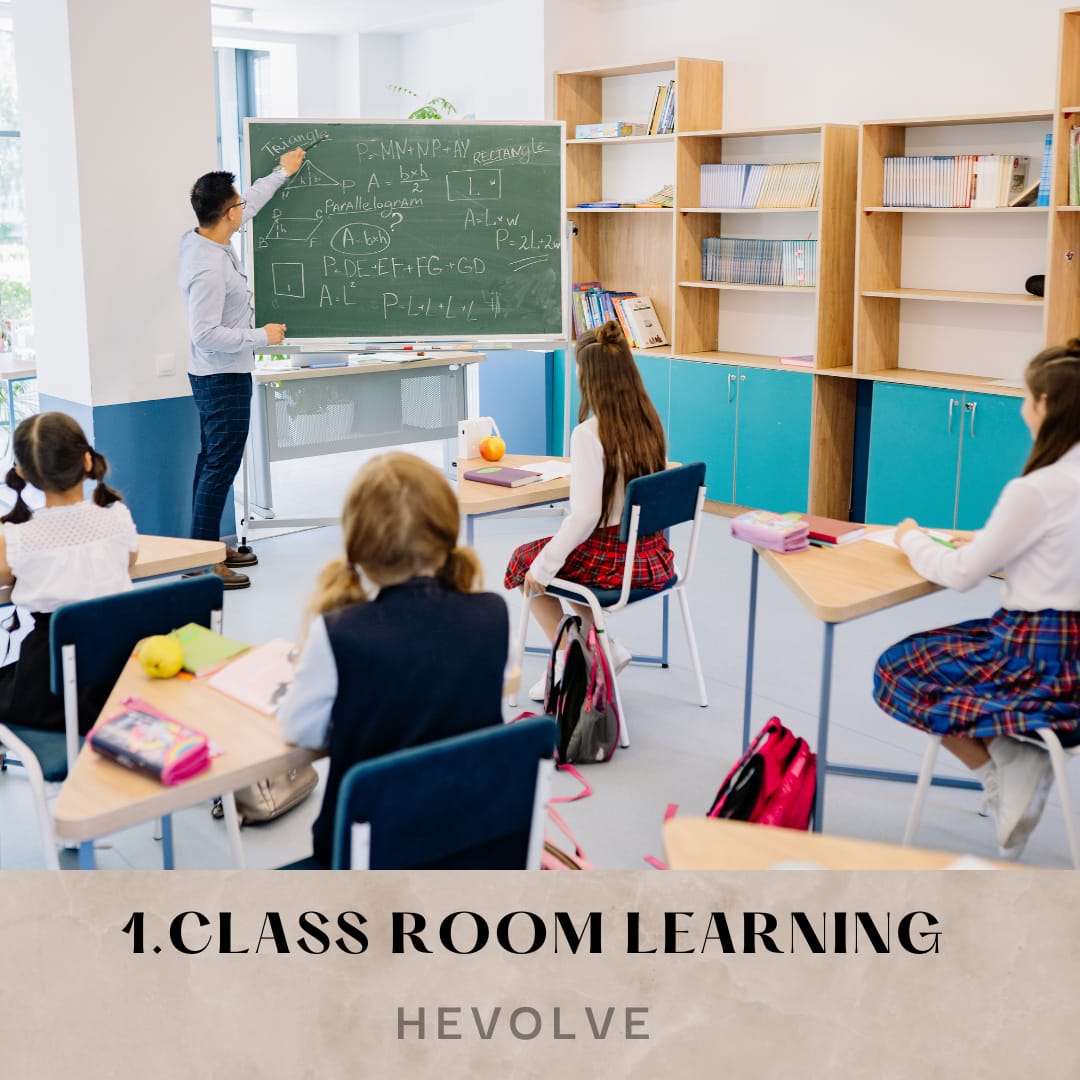 1.TRADITIONAL LEARNING OR CLASSROOM LEARNING 
EXPERIENCE

Almost everyone has undergone some form of classroom learning. Whether it's a primary school, secondary school, or even university, we've all had that one teacher who made an impact on our lives. School learning is always memorable, especially when we have friends and classmates to share the experience with. As we learn together and grow together, our personalities begin to take shape. 

The traditional learning method uses the classroom learning environment. The method is called "teacher-orientated traditional learning", it is a special training mode with a single instructor, who conducts classes and lessons for students and the whole class can participate in them.

Some benefits and drawbacks are listed below to understand better.
| | |
| --- | --- |
| Pros | Cons |
| Teachers play a crucial role in shaping the student's mind set or building their careers. They give hands-on learning experience which helps students to learn quickly. Interaction with teachers helps to develop abilities and keeps motivating.  | Teaching is done using the same way for all learners. Bias towards a particular learning style. This is not correct as all people don't have the same capability and ability to understand. Due to this many students' lag. |
| Classroom experience which is loaded with classmates and friends. Helps in enhancing communication skills.  | Being surrounded by a group of people often distracts you from the track.  |
| Attending the class physically is good for the body and mind. It increases attention concentration and observational skills. | Classroom learning doesn't have time flexibility. It is always not possible to attend physically on time. Due to varying reasons like health issues, natural disasters, transportation, etc. |
| Students have a chance to develop more discipline and punctuality when compared with E-learning | Nervousness and fear develop which increases the stress on the student. Which leads to a loss of interest in learning |
| Communication skills and soft skills will be developed as there is a chance for regular interaction. | More likely chances to develop bad habits when kids are having bad groups. More chances of getting bullied. |
| It doesn't require internet connections and has less to do with gadgets. Fewer chances of eye discomfort problems arising from looking at screens. The fee structure depends on facilities that have been provided and fee structure varies from one school to another  | Traditional learning is highly costly when analogized with E-learning. Where the learner has to spend on many additional expenditures like maintenance, establishment, and other fees. If the place is far, one has to bear transportation expenses.  |
| Teaching can be done to a large number of people at a time.  | Teachers can't focus on every pupil. there will be some students who couldn't clear their doubts due to fear or shyness in front of others, in-turn affects their studies. |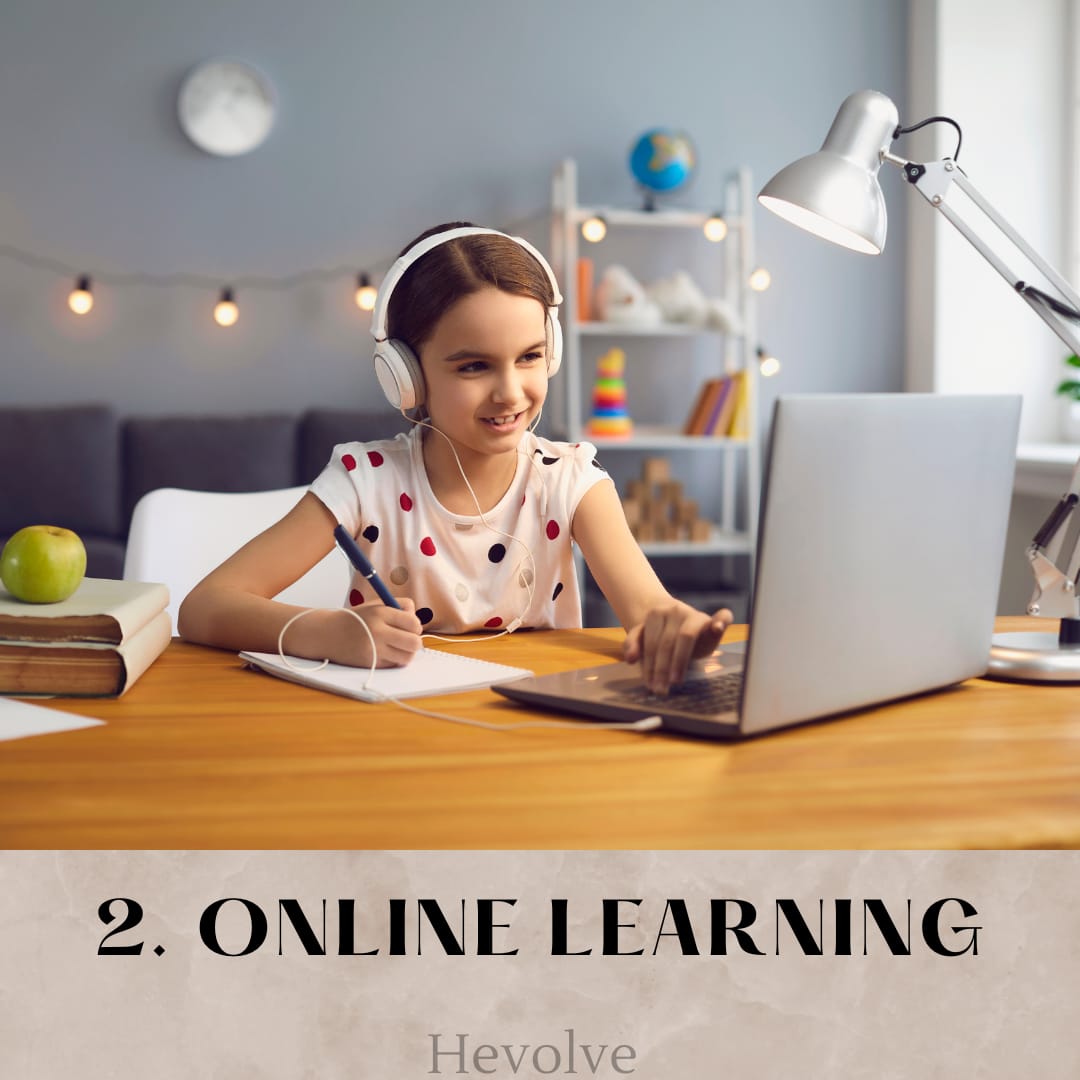 2.ONLINE VIDEO COURSE LEARNING / TRADITIONAL E-LEARNING

We've all experienced online learning in recent times. As it became inevitable during the pandemic whether to resume the learning process, which was paused due to Corona, or to enhance knowledge.
Online learning helps us stay in touch with our learning process. I feel good when it simplifies the process and allows me to learn at my own pace, I was tired and sometimes I get exhausted of spending so much time alone in one place. Without personalized attention, I occasionally lose interest in the learning process and feel dull which makes me feel boring sometimes, But what if we get a personalized teacher to teach us!
E-learning is the learning experience that takes place anywhere, anytime, and anyhow students choose to learn.
As recent advancements have led to the development of new learning methods, the process of acquiring knowledge has become more convenient. Though this process is making us lazy, it is more convenient for everyone.

E-learning offers new opportunities for students to learn and educators to teach, it also enhances the teaching methods.
E-learning is one of the most effective ways to learn the necessary skills for a job or further education. It offers flexibility, speed, and convenience. It's a very convenient way to learn, especially if you are working or have other responsibilities. You can learn at your own pace and on your own schedule.

E-learning, Conversational learning and blended learning are various types of online education. By offering a variety of knowledge, services, and service integration within enterprises, online learning can enhance performance and organizational growth. The goal of online learning is to enhance the learner's performance but in a passive manner most times.

Below is a summary of some advantages and disadvantages to help you understand. 
| | |
| --- | --- |
| Pros | Cons |
| Online learning has time flexibility. One can learn and schedule based on convenience and availability. | Chances to develop procrastination as there is a chance to reschedule.  |
| It is relatively less costly than classroom learning. Here no need to pay for transportation fees, establishment fees, maintenance, and additional fees.  | The server connecting issue is very high as most of the places in India are rural and don't have a proper network and Wi-Fi connections.  |
| Students get the ability to self-learn. As many of the teachers in the classroom are spoon-feeding the students.  | Guidance and support are needed for many learners who cannot learn by themselves. Special attention is needed for the students who couldn't be able to cope with the teacher.  |
| Some online learning platforms have communication channels where learners can update their grades and scores which gives a competitive feel.  | Due to online education, most students are habituating to a sedentary lifestyle. Which affects the health of the student. Increased screen time can affect mental health, as well as strain the eyes, and can cause sight-related problems.  |
| Online learning facilities the learners to choose the language in which they want to learn.  | Learners may lag in communication skills as there are no one-on-one interaction sessions. Which may lead to poor performance in group discussions and seminars.  |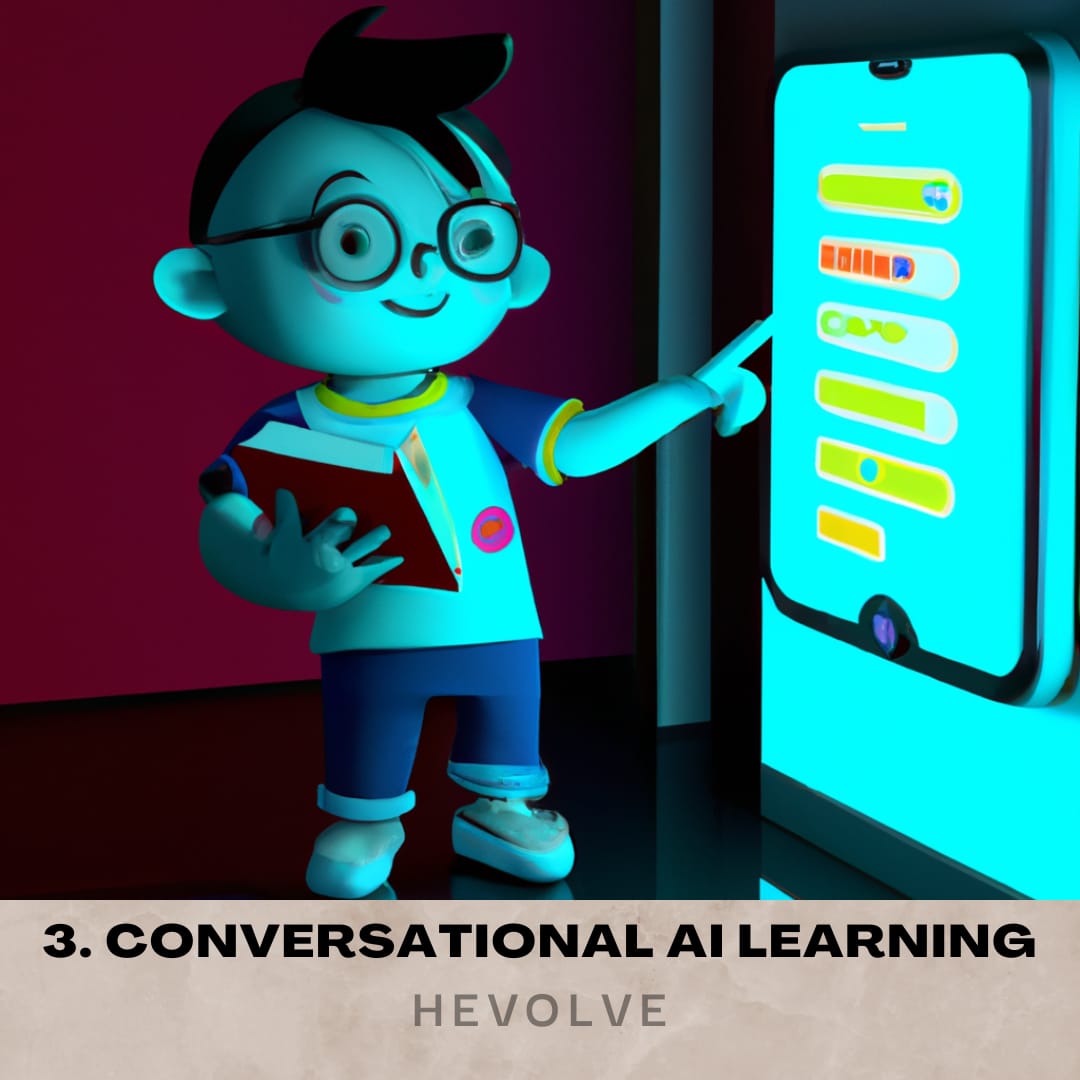 3.CONVERSATIONAL AI LEARNING
One of the finest learning methods I have ever encountered is AI learning. Because it is more personalized and engaging, you feel extremely special.
As this new form made me more progressive and succeeded in matching my needs, interests, and abilities to learn and understand things, AI turned out to be my best teacher. Having fun while learning enabled AI to make the entire learning process simple and pleasurable. We can engage in games and quizzes to increase our enthusiasm for learning.
Conversational AI has the ability to provide personalized attention to each student, something that is not possible with a traditional classroom setting. In addition, conversational AI is always available, meaning that students can access their teacher at any time, from anywhere in the world.  
Conversation learning is a new type of learning process. It is one of the methods of online learning. In this type of learning, learners are connected to and interact with assistants. A place where students' comprehension skills and abilities are measured. Based on the data collected, the learning process is adjusted individually. This procedure is user-friendly. Offer your students a one-on-one learning experience.
This learning provides the best experience because it is always interesting to have someone respond to you and teach you in a way that you can understand in the way you want.

To understand better some pros and cons are listed below. 

| | |
| --- | --- |
| Pros | Cons |
| It gives one-on-one experience. It engages student in learning process. It enhances communication skills as there is a chance to interact directly. | We can understand and visualize but we cannot experience the physical form of learning. |
| Personalized learning takes place. | Sometimes student may get bored as there is no one surrounded along with him to learn. |
| Students can interact and easily clear their queries in their preferred language. | Student should be able to understand how to respond with the interface and how to asks doubts. |
| Multiple things can be learned by using same application. | Software needs to assess suitably as students have better knowledge on some topics and less knowledge on other topics. |
| It tracks the students progress. And plan the learning techniques according to that. | One need to be there to appreciate or motivate the student for better improvement of grades. |
| Learning process is more interesting and fun as it is no more just watching. It involves assessments and revision. | Sitting in front of the device for more time can cause health problems and sight related problems. |
Future Of Education Is Now (The Only Available AI Solution For Teachers & Students)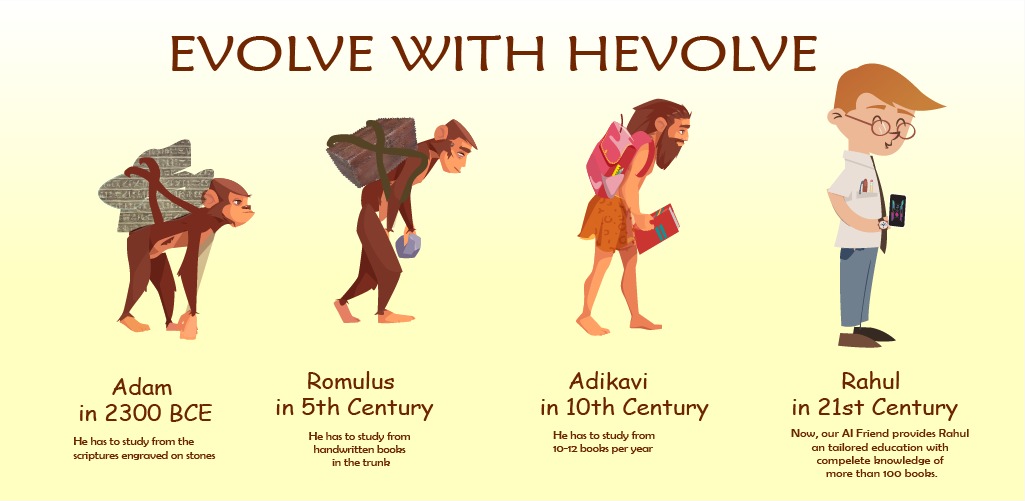 The essence of learning is understanding a concept in the most efficient way possible tailored to learning needs of students showing individual attention.

Don't you want yourself/your kids to have a personal, unbiased, know-all teacher who is always available (24X7) to help them learn?  
Thanks to the new field of AI-assisted learning. This new form of learning offers many benefits that traditional methods cannot match. For example, AI-assisted learning is always available, offers individual attention, and helps improve knowledge retention. For the best conversational learning experience, try the Hevolve app. With Hevolve, you can engage yourself in the learning process and enjoy the learning experience. Hevolve is the only app that offers conversational AI-assisted learning. This exclusive feature allows you to get the most out of you/your student's learning experience by having a personal assistant to help with studies.
You can join the waitlist today to take advantage of this revolutionary opportunity. 
To get glimpse of what the future of education looks like watch below video or Sign up today to join the waitlist here